Circleen is a little elf girl with a circular head, black unruly hair and a red ladybug-dotted dress. At night, she sleeps in a matchbox on the artist's desk. During the day, she likes to play and go on adventures with her friends, Frederik and Ingolf, two cheeky mice that sensible Circleen always has to look out for and help out of jams.
In Denmark today, 263 girls are named after the character that artist Hanne Hastrup came up with one day in 1957 as a bored 18-year old doodling in a commercial illustration class. She pictured Circleen as a house elf that would help her keep her drawing table tidy, as Circleen does in the cartoons.
Circleen, a Classic
Nine years later, Circleen leapt off the paper and onto Danish TV screens across the nation, when Hanne and her then husband, the animator Jannik Hastrup, created six short black-and-white, cut-out cartoons for national broadcaster DR from 1966-68. Next, from 1968-71, the husband-and-wife team followed up with 13 short films in colour, including 'Oh, What a Wonderful Birthday,'  the first colour broadcast ever on DR. Ever since, the films have been frequently rerun on DR and distributed to schools. This, Jannik Hastrup says, is key to 'Circleen''s status as a classic.
"When 'Circleen' first aired, there was just one television channel. So everyone who had a TV set saw it. All grownups know it. With the reruns, a large base of grownups have been passing the films of their childhood on to their children. Today, when children have 87 channels to choose from, it's impossible to make a classic in the same way," says Hastrup, whose simple stories for three- to six-year-olds mix play and pretend with familiar, real-life situations.
After the early 'Circleen' films, the director went on to make such iconic children's films as 'Benny's Bathtub' (with Flemming Quist Møller), 'Samson & Sally' and 'War of the Birds.' In 1998, he returned to Circleen, making the theatrical feature 'City Mice.'
"We did not think the possibilities were exhausted," says Hastrup, who followed up with the features 'Mice & Romance' (2000) and 'Little Big Mouse' (2004). The Circleen universe has been steadily expanding, with several illustrated books by Hanne Hastrup, music recordings, an app and various merchandise.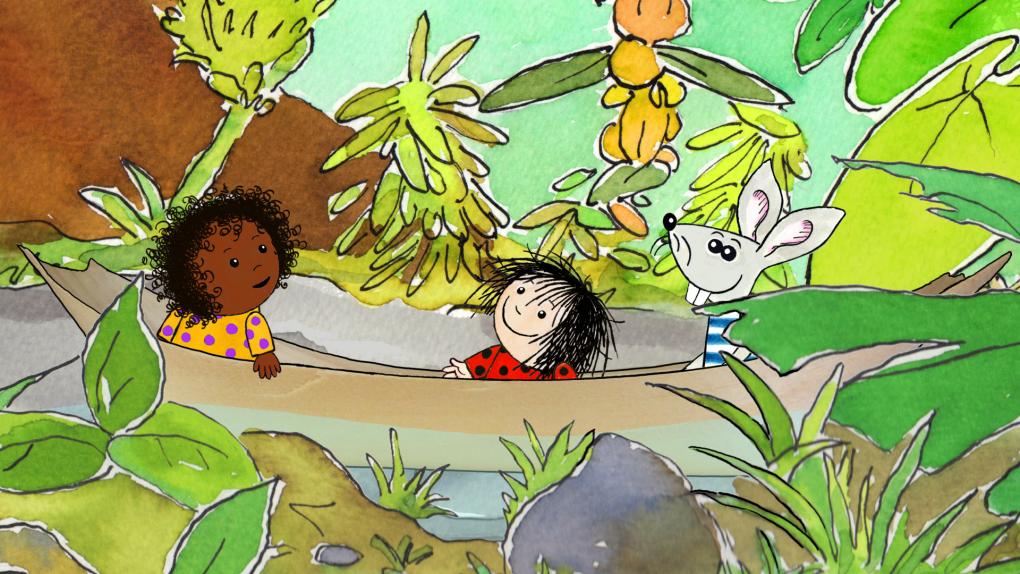 A Labour of Love
Now, Jannik Hastrup is ready with another film in the series, 'Circleen, Coco and the Wild Rhinoceros,' which he and his production company, Dansk Tegnefilm, made as a labour of love, without public funding.
"Now that I'm retired, no one can stop me from making the film myself. Animation has become less and less expensive to do, if you have the time. I spent a year and a half on this film and got no money, but it was a great pleasure," he says.
In the film, Circleen meets Coco, a little girl who leaps to life from the front of a box of cocoa. She looks just like Circleen, except she's black and wears a crown. She's a princess, she says, and bosses everyone around. When she tells them she's from Africa, where chocolate grows on trees, the gang decides to fly there on a plane piloted by the mice's granddad. Tagging along is another character from the cocoa box, Oswald the rhino, who is looking for his mother.
Should Represent All Children
Jannik Hastrup describes the Circleen films as a "social-realist story that moves into fairytale country." Like the other Circleen films, the new one is about friendship, imagination and solidarity with little ones. About not knuckling under, even if you're little, treating your friends right and being open to other cultures.
The character of Coco sprang from a desire to represent children of other ethnicities than Danish, inspired by the director's own grandkids, who are of African and Asian heritage.
"We were talking about how much fun it would be if Circleen met a black Circleen," Hastrup says. "I think there are far too few non-Danish characters in Danish films. My own family is very mixed because my children married people from other countries. It would be completely unnatural not to show that."
"The idea got a boost a few years ago when I met a man who had adopted a little girl of four or five. She was so thrilled when she first saw Circleen, because Circleen has black hair like her."
"It never occurred to me that Circleen didn't represent all girls, and so I wanted to introduce a black girl."