The life of the 22-year-old protagonist of Kasper Rune Larsen's first feature 'Denmark' may be nothing to write home about. But with a steady flow of beer, joints and girls, it's nothing to sneeze at, either. It just is. Laidback and uncomplicated, among run-down apartment blocks and overgrown railroad tracks somewhere in the provinces.
It's a life the young director knows from growing up in Southern Jutland far from the capital, and that's how it became the life he wanted to depict in his graduation film at the alternative film school, Super8, in Aarhus. Larsen plunged into making 'Denmark' at a point when a graduating director is generally discouraged from trying his hand at a feature and in stead is recommended to do a short.
"The time was right," he says. So he dropped the idea of a short film in favour of a feature based on his own teen years. A skater, Norge, is rudely awakened from his sunshine- and booze-induced stupor when 16-year-old Josephine comes knocking to tell him she's pregnant with his child and wants an abortion.
From that point on, everything changes for Norge. "Josephine is the catalyst of the change Norge has been suppressing," Larsen says. "The unexpected circumstances turn out to give him the push he needs to get back on track."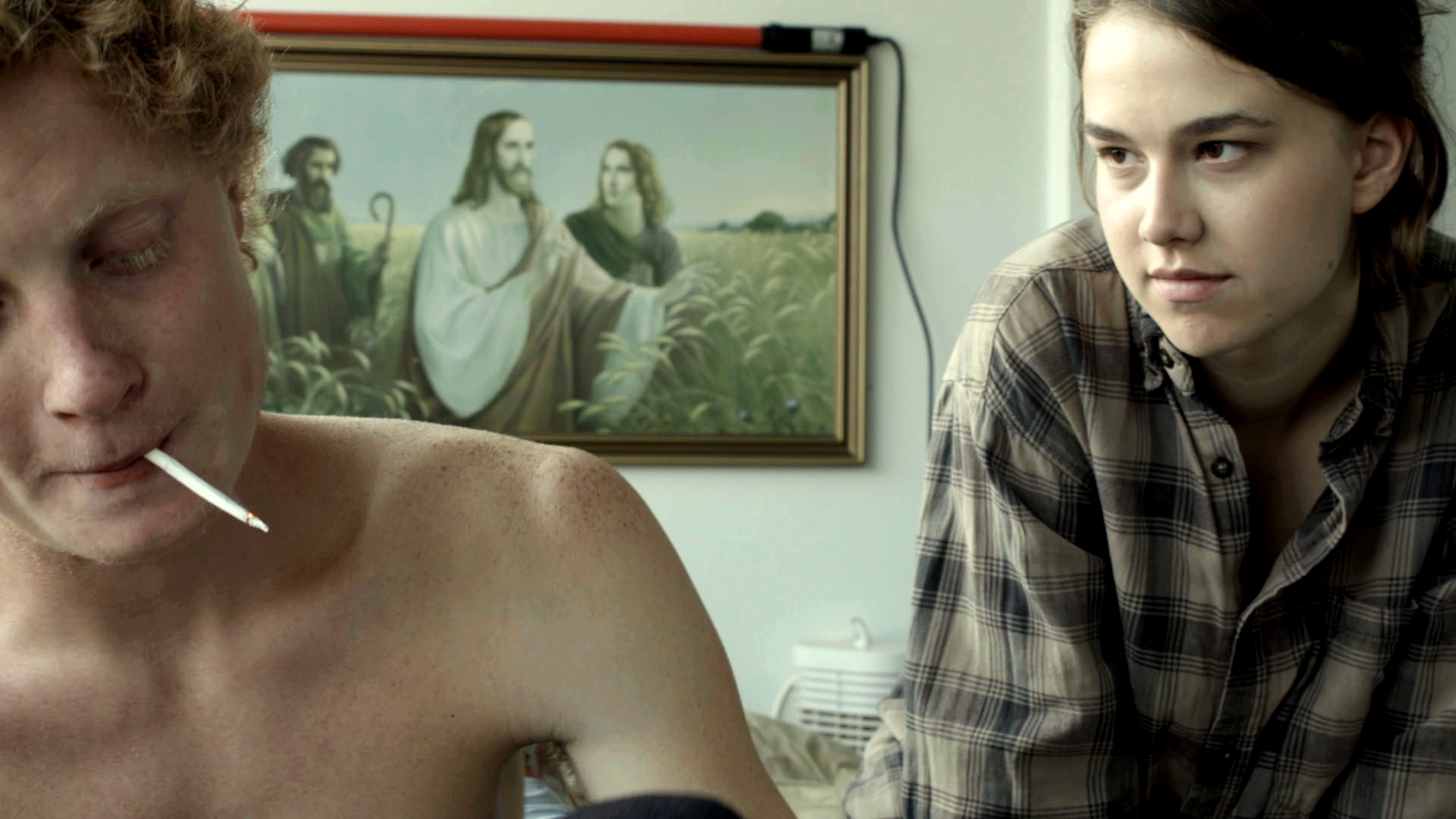 Raw and Untested
While the abortion plotline is fiction, other story elements draw on events from the director's own life as well as the lives of his young cast. 'Denmark' is rich in dialogue and extended conversations, based not on carefully scripted lines but on improvisation sessions that allowed the actors to be as natural as possible and add things from their own lives, Larsen says.
Jonas Lindegaard Jacobsen, making his screen debut as Norge, first met Larsen in a bar in Aarhus. The director was looking for raw, untested talents to credibly and convincingly fill the parts of young slackers from flyover country.
"Like I said, I had this idea to make a film about my own teen years, but I simply couldn't find any actors in the right age group who weren't from a well-off family in the suburbs. It was only when I met Jonas and we started doing some improv exercises that it made sense to make the film."
It proved harder to find the right girl to play Josephine. After auditioning 120 girls, Larsen cast Frederikke Dahl Hansen, who had acting experience from films like 'Rebounce' (2011) and 'You and Me Forever' (2012) but still had the authenticity and immediacy he was looking for.
Life beyond the Big City
The result is a film that takes a handheld, close-up look at young people, without moralising – as many Danish teen films tend to do, Larsen says.
"The film in many ways is a defiant reaction to what you could call 'youth films.' Usually, an older, more mature generation of filmmakers does stories about teenage boys and girls, superimposing a moral on their own youth that doesn't match reality," the director says.
"Young people today live pretty extreme lives, while teen films usually deal with issues like, 'How do I work up the courage to kiss that guy from the other class?' Times have shifted, and I think we should keep up."
On the whole, Larsen is concerned with getting as close as possible to the reality of the young generation. That includes providing a credible image of where most of them are growing up, which is provincial Denmark. 'Denmark' is set in a medium-sized city on the Jutland peninsula, which the director describes as "a town big enough to have all the temptations a young person without a clear vision for the future needs to forget all about it, but too small for someone who doesn't play football."
As the film premiered at last year's CPH PIX, Danish critics jumped on the fact that the quiet drama between Norge and Josephine plays out far from the capital city of Copenhagen, where most other Danish films are set. This surprises the director because, to him, it's just where he grew up.
"Part of the reason might be that a lot of films set in Jutland present over-broad stereotypes, like 'the country bumpkin.' Things get fictionalised pretty quickly," he says.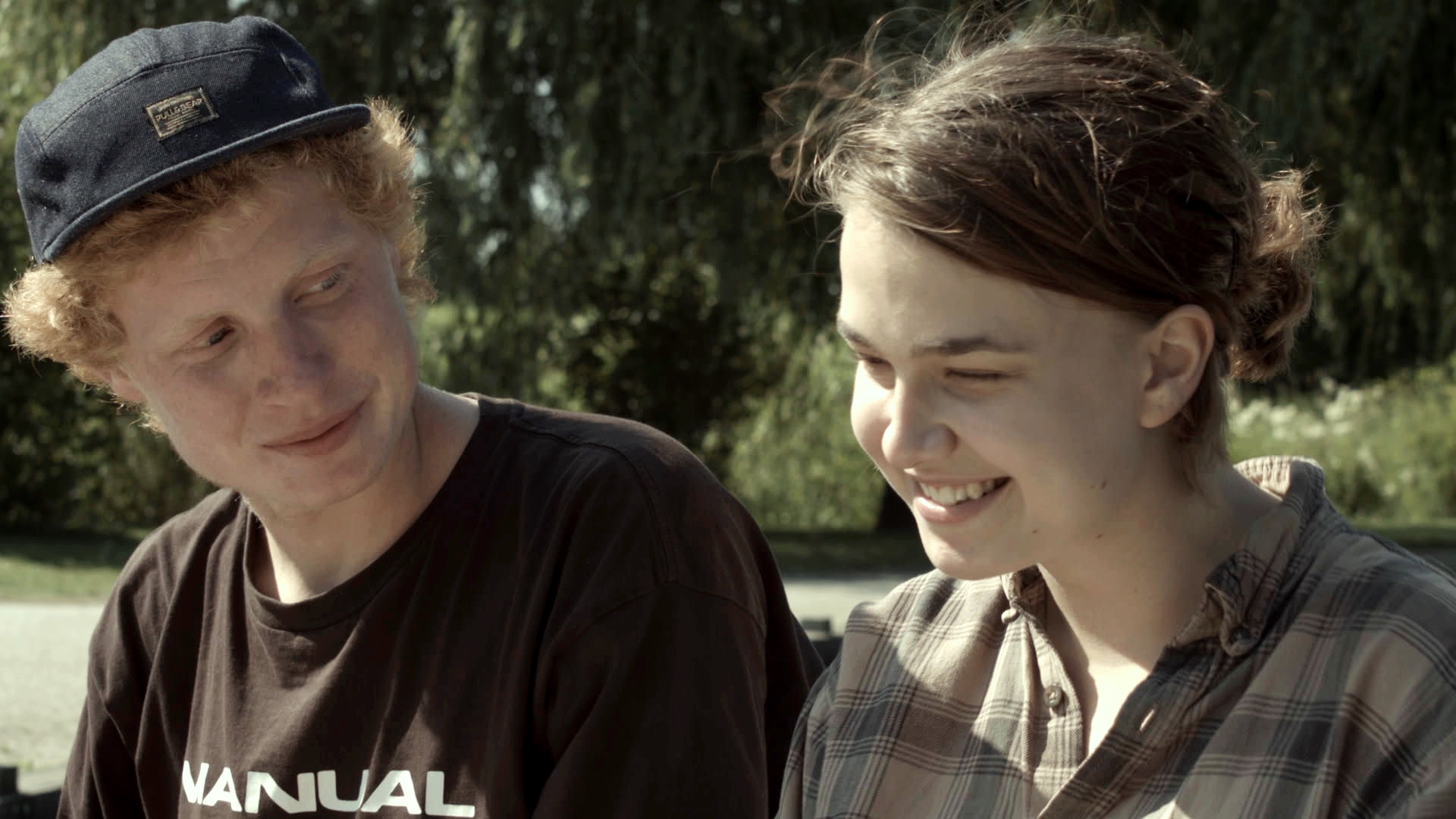 New Talents Drawing Attention
'Denmark' is not the only current Danish teen film by a first-time director that strives to convey an authentic image of teen life, while bucking morals and genre conventions.
In fact, Larsen and several other young filmmakers have been associated with a new wave in Danish cinema characterised by raw energy and a willingness to experiment with the cinematic language.
Larsen does recognise the feeling that something new is happening in Danish film right now.
"When I started making 'Denmark,' I could sense that, if I used my training at Super8 to make short films, I would be regretting right now that I didn't make a feature. Somewhere, a wind is blowing, a fire is burning," he says.
"What this wave will mean for Danish cinema and the new, young directors, it's still too early to say"
Watch trailer