Sex, intimacy, desire, no desire, security, friendship, love, vulnerability, shame, miscommunication – emotional chaos.
Cathrine, the early-twenties protagonist of Clara Mendes and Amalie Næsby Fick's web series 'Sex', finds herself paralysed by confusion when she falls for her dashing co-worker Selma of the Sex Information helpline, even if she still cares for her boyfriend at home, Simon, who has lost his sex drive. 
Still in her third year at the National Film School of Denmark, Mendes is making her debut as a series head writer and creator. Amalie Næsby Fick graduated as an animation director from the Film School in 2016 and made her first feature co-directing 'The Incredible Story of the Giant Pear', which was selected as the opening film in the Generation Kplus programme at the 2018 Berlinale. With 'Sex', she is also taking her first shot at a series.
Here, the two filmmakers discuss the background for their series and the strengths of short-form filmmaking. 
Why is your series called 'Sex'? 
ANF: "Almost every scene is about sex or feelings stemming from bad sex, good sex or difficult sex. Cathrine and Simon's big problem is their sex life, or at least it's a symptom."
CM: "In my experience, a lot of people find it hard to talk about sex and have this idea that sex should take care of itself when people are good together. A lot of people don't want to admit that everyone's sex life has its ups and downs, even in a good relationship."
You have chosen to focus on young people. How did you get the idea for the series, Clara?
CM: "I got interested in the 'Sexlinien' helpline (a counselling forum for young people aged 15-25, ed.), which we call Sex Information in the series – and I realized that it's an arena where young people in their early twenties advise other young people.
"It occurred to me that it's often easier to advise others than follow your own advice. I know this from my own life, when I urge my friends to talk about difficult subjects and taboo emotions, but I haven't always been so good at it myself in my own relationships. Out of this grew my main character, Cathrine. 
"As I see it, Cathrine's problem isn't so much that she is sexually attracted to someone else, but that she's unable to share her feelings with her boyfriend."
What attracted you to the script, Amalie?
ANF: "I felt like I was reading about myself, even if I haven't actually been in those situations. It's so easy to recognise. Cathrine is hurting because she doesn't know if her boyfriend wants her. That's a very vulnerable place to be in, and hard to talk about.
"Even if the series is not about being gay, that aspect of the story struck a chord with me too. I'm gay, and I had a hard time owning it when I was younger and lived in a small town. In terms of the series' target audience, young people, I think it's helpful to recognise that sexual curiosity is a completely normal condition."
CM: "I'm into girls, too, and I wanted to create a story that reflects that without putting queerness at the core. As I see it, the series is not about the fact that Cathrine falls for a woman, but the fact that she's falling for someone other than her boyfriend. That's a crisis in itself in a monogamous relationship."
ANF: "This shading makes the series a story of identity more than one of infidelity."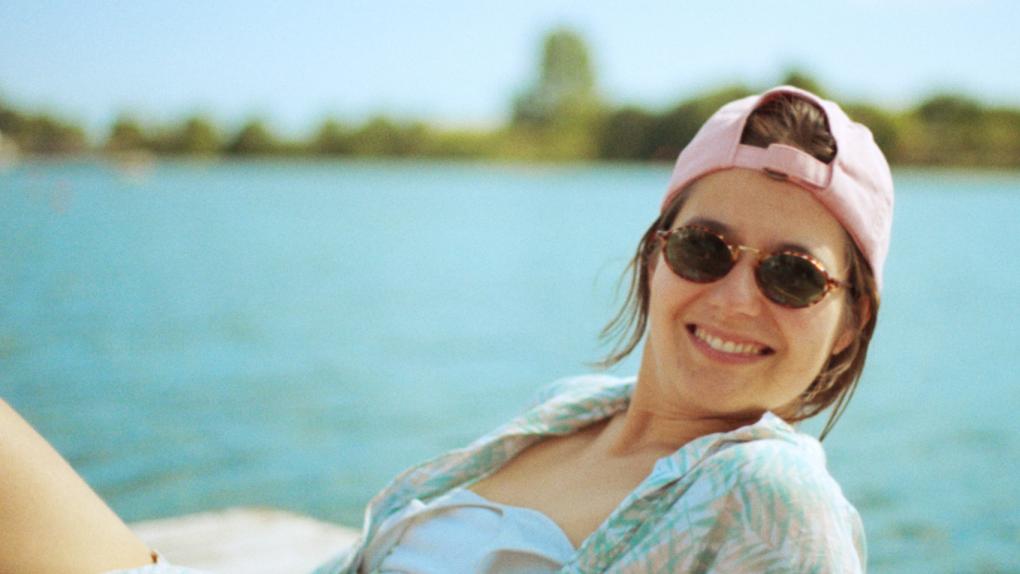 How did you work with the actors in the intimate scenes?
ANF: "The DP, the actors and I choreographed all the sex scenes with a still camera, so the actors knew exactly what shot we were taking, how much we could see and how much clothes they could have on. It was important for us that everyone knew what was going to happen in practical terms, and that every scene had a clear intention."
CM: "In the script, we strove to make every sex scene a turning point for Cathrine. We don't include any sex scenes just because they're hot."
ANF: "We strove not to objectivise the woman in the sex act. We don't focus on the body but on the emotions of her engagement, her desire or lack of desire."
What were your thoughts about the web-series form?
ANF: "It was important for us not to rush the story just because the form is short. A lot of TV for young people is very fast-paced, and we wanted to go against the grain.
"We didn't want to compromise on pace or presence. But at the same time, we wanted to take the time to inhabit the characters' emotions and get to know them. That's also a way to take the feelings of our target audience seriously, and it was possible because the plot wasn't that elaborate."
CM: "Working in the short form, it's tempting to tell a story quickly and efficiently, because you worry about second screening (watching TV while looking at your phone, tablet or computer, ed.) But then you lose the emotion and the recognisability." 
Why do you want to tell stories for young people?
CM: "A lot of the youth TV I watched when I was young was obviously made by people who hadn't been young for a long time and took a romanticising or moralising look at young people. We tried to remind ourselves about the feelings you have when you're young, and take them seriously. We were there, too, not that long ago: I'm 25 and Amalie is 33.
"Young people are extremely impressionable. I used fiction as a mirror myself, but often I didn't feel mirrored. I felt there was a lack of nuanced representations of being a girl or being a sexual being without being hetero. Those are some of the stories I want to tell."
ANF: "Idealistically, we might be able to influence some people to feel better about themselves. The stories that have meant the most to me, in my life, I saw before I was 20. It would be amazing to tell a story that impresses someone early in their life."