For her second feature, May el-Toukhy wanted to delve into secrets. 
'Queen of Hearts' tells the story of Anne, a successful lawyer who leads a happy life with her doctor-husband, Peter, and their twin daughters. However, family life is stirred when Gustav, Peter's reckless teenage son from a previous marriage, moves in with them. While Peter has a hard time connecting with his son, Anne finds a way to establish a bond with Gustav. As their relationship evolves and Anne seduces Gustav, she jeopardizes both her career and her family. 
El-Toukhy started thinking of the film's themes back in 2013. 
"It came about because I am interested in family secrets. I have lost people close to me, and every time, I'm amazed that there are so many untold stories that surface in the aftermath. Also, I'm fascinated by how far individuals and sometimes whole families have been willing to go, to keep these stories tight. Basically I wanted to look at the creation of a family secret."
Another inspiration to create a story about an older woman and a younger man came from the desire to shake up how such a narrative is usually presented. 
"Historically we have a tendency to overromanticise the relationship between an older woman and a younger man, whether it's a stepmother and stepson or teacher and pupil. That narrative differs very much from the narrative of stepfather and stepdaughter and is often depicted as something more profound and pure. And it's rare that we see the perspective of the older woman, not the younger man. I wanted to look into that." 
A particularly challenging character
El-Toukhy and writer Maren Louise Käehne – who also collaborated with el-Toukhy on her debut feature 'Long Story Short', winning them the national Bodil Award for best script – started with a lot of research. 
"We gathered a lot of material," el-Toukhy explains. "And spent a ton of time discussing different angles, reading books, watching documentaries and going through essays and articles. We were also getting inspiration from old Greek mythology, for example, the story of Phaedra, who falls in love with her stepson, but is rejected by him." 
In addition to their own research, el-Toukhy and Käehne got very valuable input from people with knowledge of comparable experiences – among them, a therapist working with clients who had lived through both sides of resembling situations. "Without naming names, she gave us testimonies and her thoughts on both the women who had experienced something similar, and the younger men," the director says.
As with all her work as director and writer, she has to understand and identify with the characters, el-Toukhy says.
"I have to put myself in the character's shoes. That's the way I like to work, and that has been the most challenging part of directing this film in particular, since the character of Anne has a rather complex psychology – I had to go visit an intricate place in myself. I like being challenged like that, by the work. And I think it is a necessity for me as a director, in the search for something that rings true, and that an audience can relate to."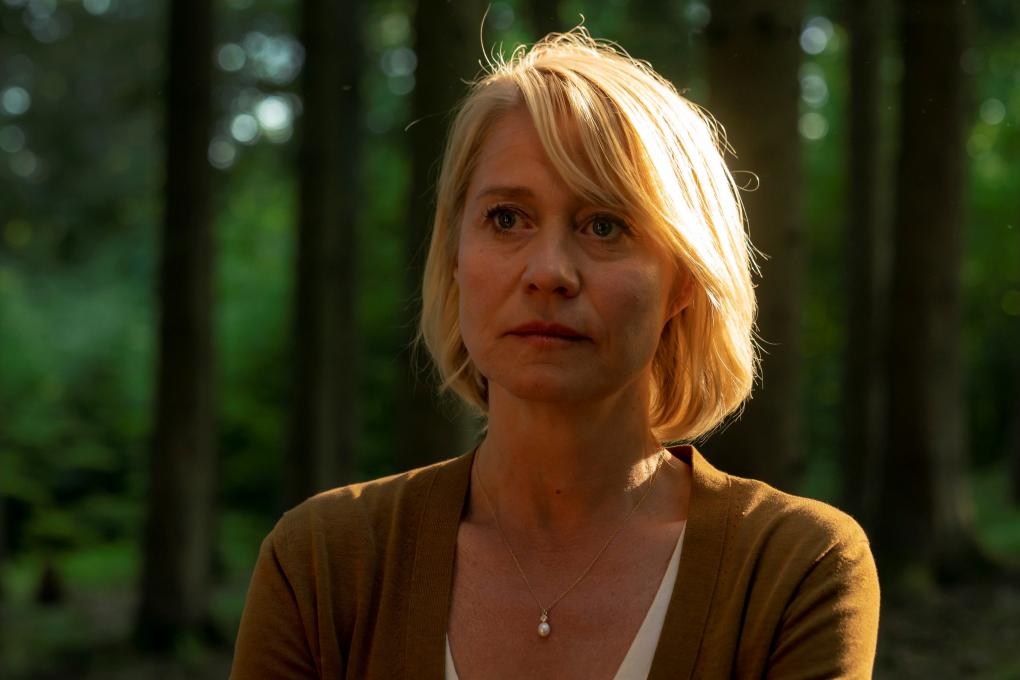 Fearless Trine Dyrholm
The film hangs on Trine Dyrholm's confident performance. El-Toukhy had worked with the actress on 'Long Story Short' and on TV hit 'The Legacy', so she and Käehne pitched the idea to Dyrholm early on in the process, and she jumped to the challenge. 
"I believe strongly that Trine Dyrholm was the only actress that could play this part and get away with it, and I just wanted her and no one else in the world to do it," says el-Toukhy. 
The director adds, "Trine Dyrholm is utterly fearless in her work, and she will do anything the role and the story demands of her. The bigger the challenge, the better. I believe that like most great actors, she wants to and enjoys being dared, if she is in a safe working environment. I try to create a safe space for myself and the actors through rehearsals, and also I strive to take risks in regard to the artistic choices I make – so we are a good match in that sense."
The film contains several intimate sex scenes between the characters, and these were carefully planned and meticulously storyboarded in advance, el-Toukhy says. "I wanted to create a progression in the sex scenes throughout the film. At first the sex is very in-your-face lustful – pure body and no mind, then gradually I wanted the mood to become more and more intimate and the energy of the scenes to reflect and symbolize the characters' variable emotional states."
She adds, "I believe that a sex scene should only be in a movie if it is telling the audience something new, or providing insight, in the same way for instance a dialogue scene would. Otherwise it easily becomes redundant, because it does not move the story forward or take us deeper, and then it loses its power."
Man and boy in one
To cast the stepson, Gustav, el-Toukhy wanted a trained actor who looked like a juvenile but was not. 
"I wanted someone with some experience in life and therefore some sort of perspective," she says. Enter Swedish rising talent Gustav Lindh, who was then 22, but looks believable as a scrawny 17-year-old on screen. He has already had experience after making TV shows like 'Jordskott' and films like 'All Inclusive', and had won the Stockholm Rising Star Award in 2017.
"He has this subtle femininity to his face. His charisma is difficult to define; he looks like a man, but he's also just a boy," she adds. He sent in a "really impressive" audition tape and then the team tested him with Dyrholm in Copenhagen. "We had to see if the chemistry was believable. Can we imagine this woman seducing this boy, and can we imagine him being captivated by her?"
Nature as an important motif
The team rehearsed extensively for three and a half weeks before shooting for about 35 days. "In the rehearsal room, we are creating a collective knowledge of the material based on the scripted vision for the story," she explains of her approach. 
"This collective knowledge helps us a lot during the shooting of the film. When we bump into something that isn't really working, and I have to rethink the scene, we all come from the same place trying to solve it, and then the common language we have created together in the rehearsal room comes in handy."  
The film, shot on 35mm, based most of its production in a gorgeous house north of Copenhagen, where the garden leads into the woods. The natural world became an important motif. 
"I wanted nature to play a visible part in the film. In nature, there is an obvious brutality and order of the world, which is also the case in the human relations in the story. Sometimes we dominate and sometimes we are being dominated. There is something very animalistic in the way that a hierarchy in a family works, and I wanted to explore that both thematically and visually through the moving images of nature."
Powerhouse collective
The invitation from Sundance is the first indication that people might find the perspective of this story interesting. With such a morally complex story, el-Toukhy says, "I'm very curious to find out how the audience will react." 
"I do not find it particularly rewarding workwise to be intentionally provocative or controversial. It has never been my aim or main objective. But I do understand if some people could be provoked by this film, occasionally I'm being provoked as well by it! Partly, I think, because we have chosen to tell the story from the perspective of the seducer, not the seduced."
The Sundance premiere is a celebration not just for the director but for the whole creative team, who have a unique bond. El-Toukhy, Käehne, and producer Caroline Blanco met at the National Film School of Denmark and after they graduated, they made 'Long Story Short' together – where they also first teamed up with Dyrholm. The four are planning to collaborate again in the future.    
Of this powerhouse collective of women, el-Toukhy says, "We work really well as a diverse group and although each one of us have a specific part to play in the making of a movie, we discuss and evaluate the creative decisions with no fear across demarcations, in order to make the best film possible."