Organization and principal genres
The Danish Film Institute is the central organizational element in contemporary Danish films but also television (with DR and TV2) has influence. Since 1999 it has been established that every four years politicians have a so-called movie settlement that sets the economic framework for Danish films in the following period.
The institute's business, led by CEO Henrik Bo Nielsen since 2007, is divided into three main areas: Production & Development – in charge of support for feature films, shorts, and documentaries as well as the New Danish Screen; Audience & Systems –responsible for supporting the promotion and sale of Danish film as well as audience services of various kinds; and the Museum & Cinematheque – which stands for Cinemateque's film program, library and film archives as well as poster and photo archives, including restoration and protection of the film heritage. 
Contemporary Danish feature films can be divided into three main categories – popular films, mainstream films and art films. There are indeed movies that overlap categories, but generally speaking production can be divided into popular films (mostly funded through 60/40 scheme), mainstream films (mostly supported through the consultant scheme), and art films, understood to be more experimental artistic films (mostly supported through the consultant scheme or the New Danish Screen scheme).
Film education takes place at The Danish Film School (since 1992 with Poul Nesgaard as leader), but also on alternative paths such as Super 16 (since 1999) and the European Film College in Ebeltoft (since 1993) as well as University of Copenhagen (Film and Media Studies).
The central production companies are Zentropa Entertainments (Peter Aalbæk Jensen, Vibeke Windeløv, Ib Tardini, Meta Louise Foldager, Sisse Graum Jørgensen), which since 2008 has had Nordisk Film as co-owner. Also Nimbus Film (Bo Erhardt, Birgitte Hald), Grasten Filmproduktion (Regner Grasten), M&M Productions (Tivi and Kim Magnusson), Thura Film (Michael Obel), ASA Film Production (Henrik Møller-Sørensen), Fine & Mellow (Thomas Gammeltoft), Cosmo Film (Rasmus Thorsen, Thomas Hostrup-Larsen); Angel Film (Mogens Glad, Poul Erik Lindeborg) and the internationally anchored animation company A. Film.
Sequels and action flicks: The popular movies since the millennium
The current 60/40 scheme (an update 50/50 scheme, introduced in 1989), which can support up to 60% of a budget was introduced in 1999 (in reality however, government support is around 40%). The scheme ensures the production of popular movies with a success criterion of 175,000 tickets sold.
Film series, sequels to popular films, often called 'Roman number films', is still a typical model in Danish popular movies. There are feel-good family films, based on classic models, like the new My Sister's Kids  and Father of Four, and there is the popular Anja & Viktor series that began with Love at First Hiccough in 1999, offering fresh romances for young people.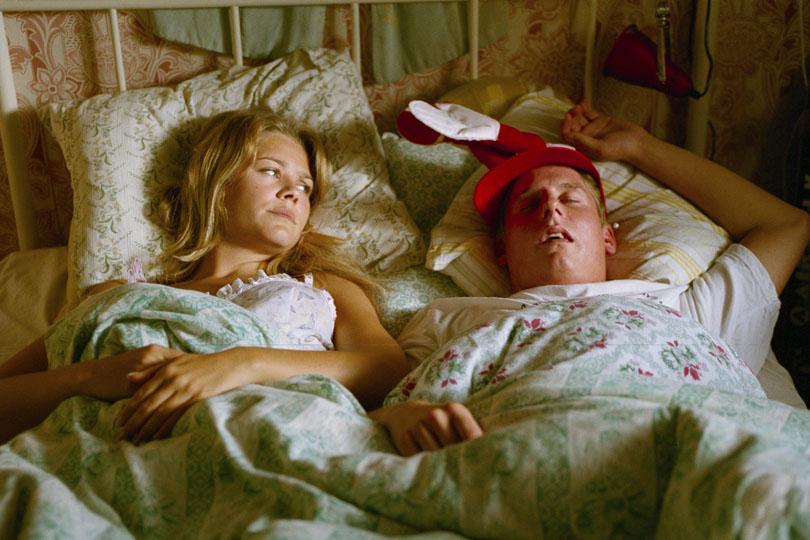 A more grown-up form of comedy, which turns the genre away from folk comedies and family comedies and towards romantic comedy that focuses on partner choices and lifestyle decisions, broke through with Susanne Bier's The One and Only (1999) and afterwards with Lone Scherfig's Dogme film Italian for Beginners (2000), which is among the most internationally successful Danish films. Other typical comedies are Hella Joof's homosexual comedy Shake it All About (2001), Gert Fredholm's One-Hand Clapping (2001) and Morten Arnfred's Move Me! (2003).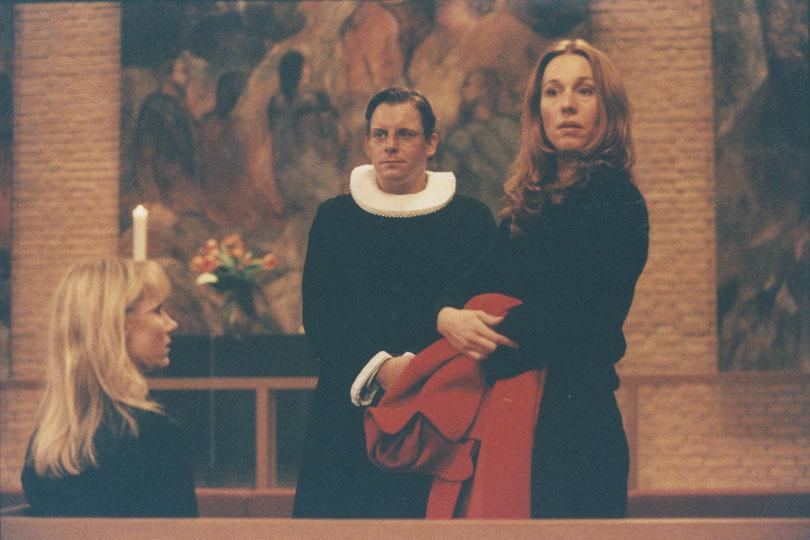 A key figure in the popular new movie is Anders Thomas Jensen, who, as a screenwriter, has delivered with great skill in many genres, but delivers his most original work in the popular action comedies, 'guy flicks', where low-comical, loser-types are central.
His manuscript for In China They Eat Dogs (1999, directed by Lasse Spang Olsen and produced without government support) paved the way for the genre's Danish possibilities. He continued with manuscripts for, among others, Stealing Rembrandt (2003, directed by Jannik Johansen), Clash of Egos (2006) and At World's End (2009, both directed by Tomas Villum Jensen) as well as his own films Flickering Lights (2000) and notably Adam's Apples (2005), which masterfully combines flippant violent comedy with an allegorical fable about good and evil.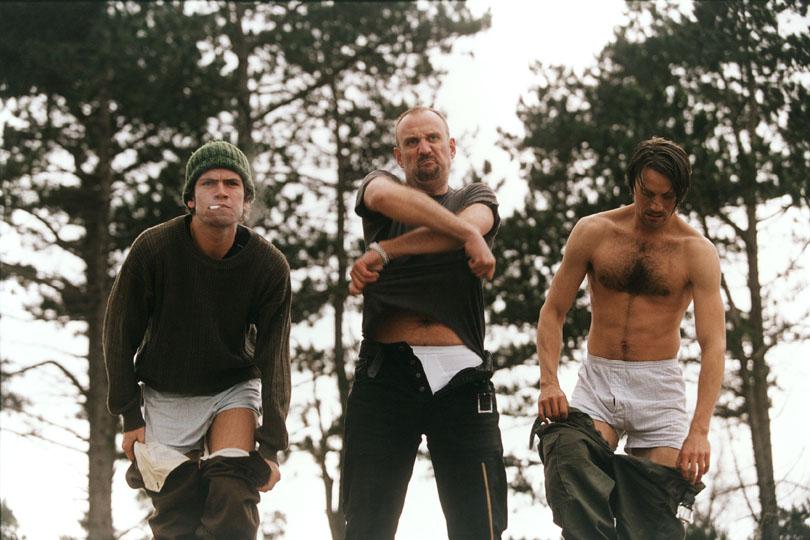 Denmark's class system, board games and genre films: Mainstream film since the millennium
Central in contemporary Danish cinema are Per Fly's films, the much seen and highly praised trilogy about lower, middle and upper class-Denmark, The Bench (2000), Inheritance (2003) and Manslaughter (2005). It is not social realism, but a kind of sociological melodrama, which ambitiously paints a picture of the nation by using individual fates to create powerful drama. Melodrama is also used by Susanne Bier with the Dogme films Open Hearts (2002), Brothers (2004, remade by Jim Sheridan in 2009) and the Oscar nominated After the Wedding (2006), which lead her to Hollywood with Things We Lost in the Fire (2007).
A strong trend is realistic everyday dramas such as Jesper W. Nielsen's Okay (2002), Annette K. Olesen's Minor Mishaps (2002), the Dogme film In Your Hands (2004), Paprika Steen's Aftermath (2004), Jacob Thuesen's Accused (2005) and Ole Christian Madsen's Prague (2006). All these films have manuscripts by Kim Fupz Aakeson, who, next to Anders Thomas Jensen, is the most important scriptwriter in the period. He broke through with the romantic comedy, The One and Only, but has particularly distinguished himself with subdued, intense chamber pieces that focus on couples and family life's painful moments.
Nils Malmros continues with his remembrance projects, Facing the Truth (2002) about his doctor-father, and Aching Hearts (2009) about high school. Childhood memories are also central in Niels Arden Oplev's We Shall Overcome (2006) and Peter Schønau Fog's The Art of Crying (2006) based on Erling Jepsen's novel about growing up in a traumatized southern Jutland family.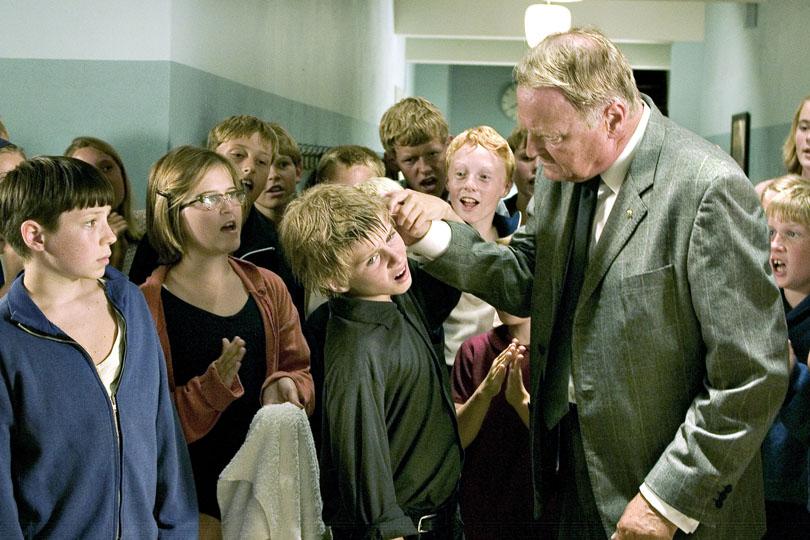 Otherwise it is striking that the classic genres are tested more fearlessly than before. The thriller has gained ground, first and foremost with Nikolaj Arcel's King's Game (2004), which in effective Hollywood style reveals political rot; also Nicolas Winding Refn's Oedipus themed gangster drama Pusher 2 (2004), Bornedal's neo-noir Just Another Love Story (2007) and Rumle Hammerich's Headhunter (2009). A popular success was Ole Christian Madsen's Flame & Citron (2008), using two authentic tragic figures, it paints a less than heroic picture of the years of the German occupation. Niels Arden Oplev had international success with the Swedish crime film The Girl with the Dragon Tattoo (2009,) based on Stieg Larsson's bestseller. On the fringes of the genre one finds Henrik Ruben Genz's Terribly Happy (2008), a rather original black humor 'regional crime film' based on Erling Jepsen's novel.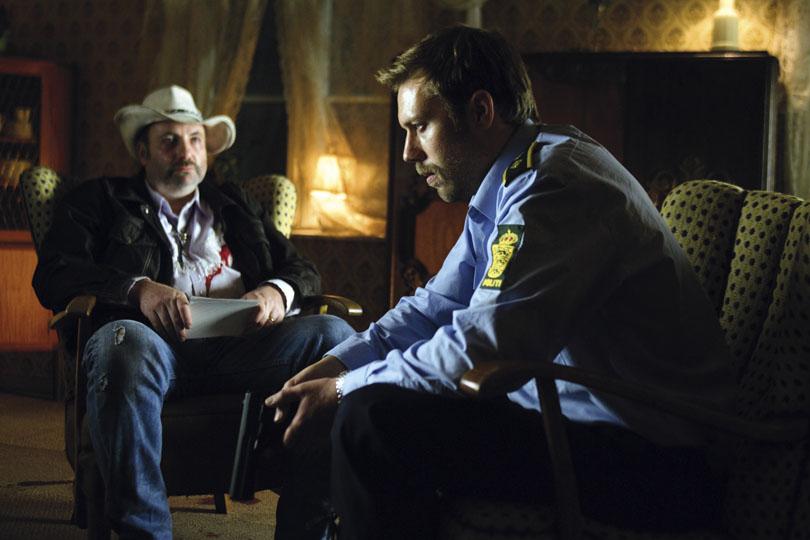 Arcel who is also a central screenwriter for other directors' films including Catch That Girl (2002, Hans Fabian Wullenweber), an action movie for kids, as well as The Girl with the Dragon Tattoo, continued with the children's film Island of Lost Souls (2007), the first convincing Danish bid on a fantasy film with 3D effects.
In the genre of children and youth films there is also Christina Rosendahl's Triple Dare (2006) and Natasha Arthy's Fighter (2007), about female adolescence. Most original was Stefan Fjeldmark et al.'s Terkel in Trouble (2004), the first Danish feature film in 3D animation, based on a radio play by Anders Matthesen, who also supplied all the voices. With its pungent satire, and its grotesque methods, it showcased an effective modernization of Danish children's films.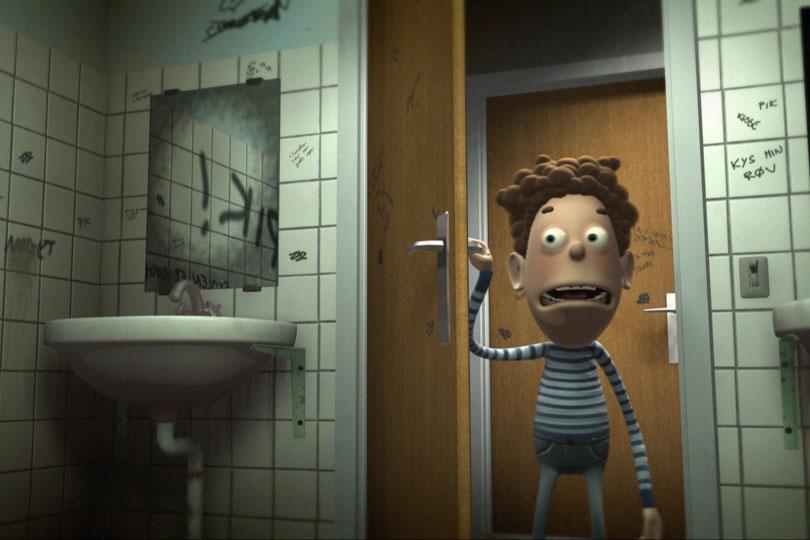 Obstructions and chalk lines: Art film since the millennium
The more exclusive, aesthetically experimental art film appeals to a fairly narrow audience. The success criterion is not so much the number of tickets sold, but rather respectful reviews and prestigious prizes at international festivals.
An important figure in the period, Christoffer Boe, who broke through with Reconstruction (2003), a subtle love story on several levels, meta and otherwise, followed by the allegorical Allegro (2005), about an artist locked inside his art, and Offscreen (2006), where the protagonist is an actor with a mounted camera recording his own demonic destruction.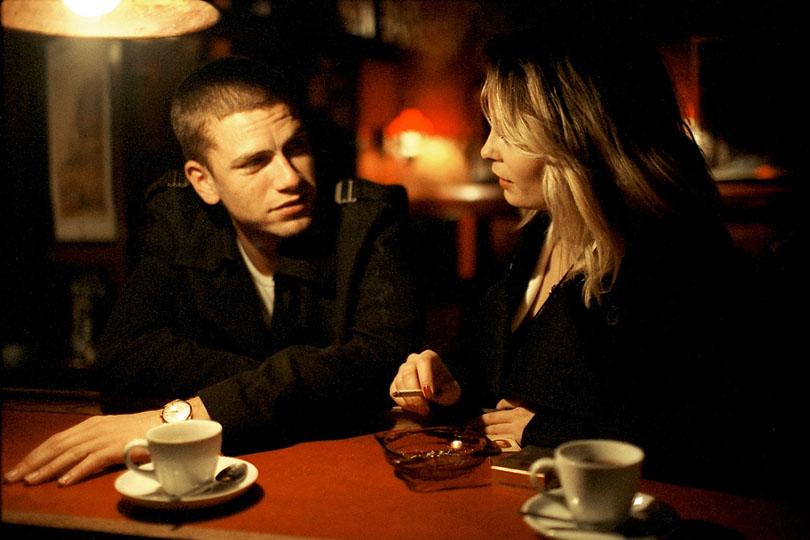 In the exclusive category one can also find Pernille Fischer Christensen's psychologically sensitive A Soap (2006), written by Fupz Aakeson about a woman in crisis and a transsexual awaiting a sex change operation. The film was, like 'Offscreen', produced by New Danish Screen, which under the name Talentudvikling (earlier: Dansk Novellefilm / Novellefilm) was established in 2003 to "support and inspire the development of film's formal language and narrative." Other films in this scheme were Anders Morgenthaler's harsh animation Princess (2006) and feature film Echo (2007), Martin de Thurah's short Young Man Falling (2007) as well as Martin Zandvliet's award winning feature film debut Applause (2009), about an actress in personal crisis.
The art film includes works such as Åke Sandgren's Dogme film Truly Human (2001), a fable about a stranger in Danish society, Jytte Rex's Silk Road (2004), about a journey into death, and Simon Staho's formalistically intense story of a tragic mother figure, Daisy Diamond (2007).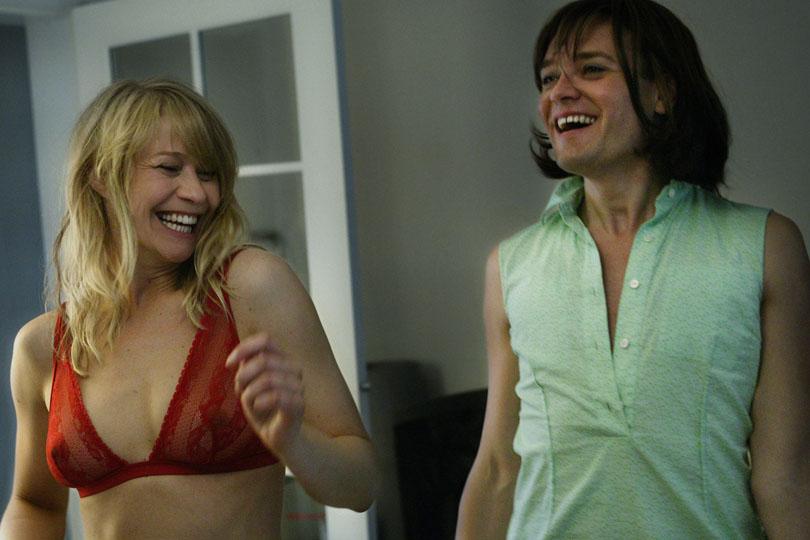 In the most extensive avant-garde of the period the chief work is artists Michael Kvium and Christian Lemmerz's The Wake (2000), an eight-hour silent, musically accompanied visual stream, which reflects on life and nature in a James Joyce-inspired association of images.
The main figure in art films is still Lars von Trier, whose experimental cinema literally pushes the boundaries. He won the Palme d'Or for Dancer in the Dark (2000), a tragic musical, with the Icelandic singer Björk in the lead role (and composer). In The Five Obstructions (2003) the bizarre premise was that Jørgen Leth was to make new versions of his short film The Perfect Human (Det perfekte menneske) from specific rules and limitations that were devised by von Trier.
Dogville (2003) and Manderlay (2005) were a part of the incomplete USA trilogy. Through ironic and instructive stories about the much-afflicted heroine in Depression plagued America, it analyzes the human psyche and social mechanisms, constructed with a Brecht-inspired stylization of a film studio with suggested decorations and white lines on the floor. Most recently came the enigmatically symbolic Antichrist (2009), about woman's nature and nature's cruelty.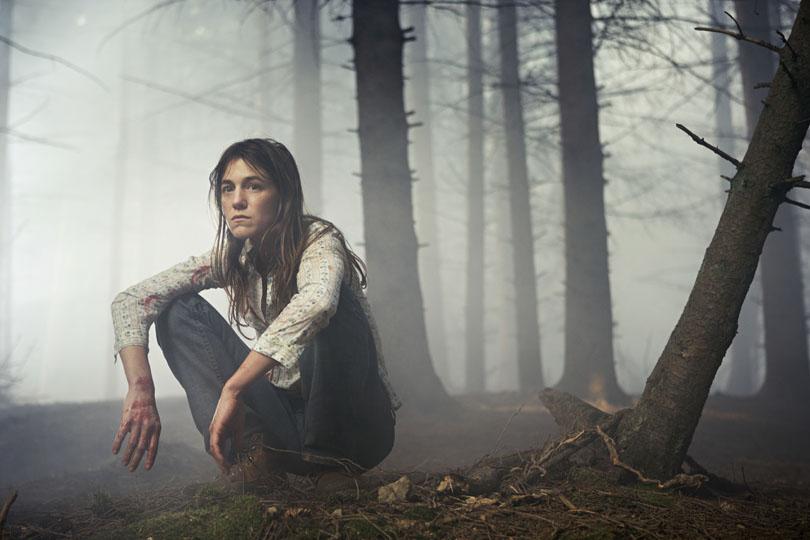 The big world: Internationalization in Danish film
Since the advent of sound Danish film has mainly had national distribution, reserved for the small, local world. Throughout history there have been initiatives for Nordic cooperation, as some popular movies, for example, were parallel recorded in both Danish and Swedish versions during the 1930s and 40s. In the 70s and later several attempts were made to penetrate the international market, out in the big world. But Bent Christensen's 'The Only Way' (1970), Balling's 'One of Those Things' (1971), Carlsen's French language 'A Happy Divorce' (Une divorce heureux, 1975) and Bang Carlsen's 'Time Out' (1988) demonstrated clearly that these kind of international attempts had trouble finding a home.
The exception is Lars von Trier, who from the beginning managed to emerge as an international film artist whose films, in most cases are in English with international actors and Danish producers. His early films contributed to the fact that the Film Law of 1989 withdrew the rule that Danish films should be in Danish.
There are Danish directors who have made foreign films abroad - Bille August with German and American films, Bornedal with the American version of Nightwatch (1997), based on his own debut film, Susanne Bier with Things We Lost in the Fire (2007) and Lone Scherfig with the English An Education (2009), which was Oscar-nominated in three categories.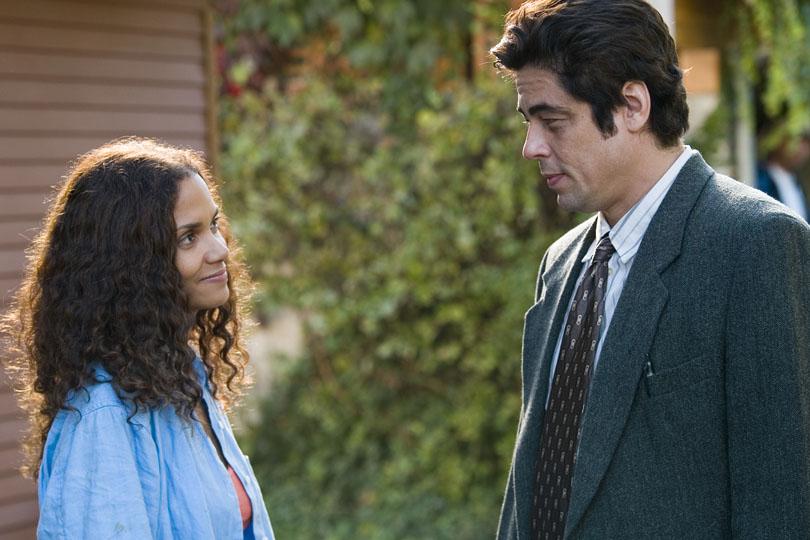 But there are also films such as Bornedal's I Am Dina (2002) based on a popular Norwegian novel with Danish, Swedish, English and French actors all speaking English in a Norwegian setting, Lone Scherfig's Wilbur Wants to Kill Himself (2002) filmed in Scotland with local actors, Nicolas Winding Refn's Fear X (2003) and Valhalla Rising (2010), Thomas Vinterberg's It's All about Love (2003) and Dear Wendy (2005) as well as Kragh-Jacobsen's 'The Island on Bird Street' (1997) and Skagerrak (2003).
Here the internationalization of Danish-made, English-language films makes its mark, made as European co-productions by a wide variety of corporations and foundations. The result is often a product of diffused nationality, a so-called 'Euro-pudding', films that despite their quality have difficulty finding an audience, both home and away.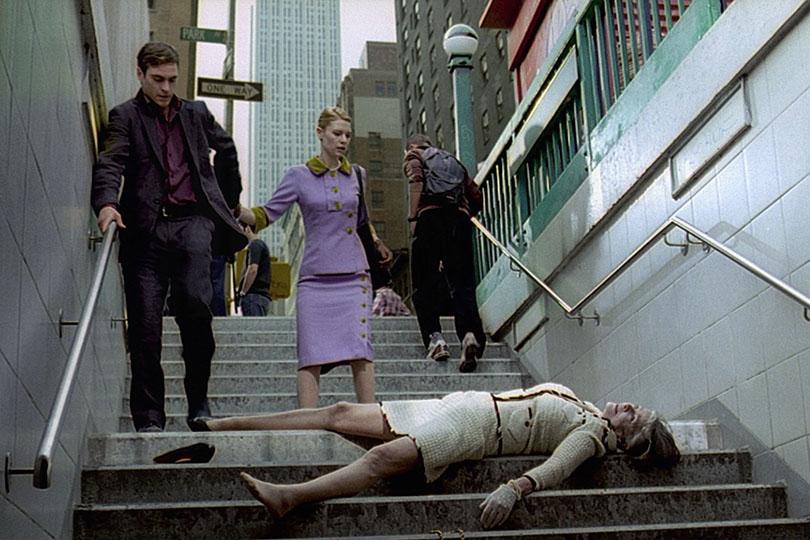 Crime pays: heyday of Danish television fiction
Danish television drama has experienced a new golden age through a series of successful TV series, where the author stands out as the central creative force.
Stig and Peter Thorsboe continued together or separately (with, sometimes, respectively Hanna Lundblad and Mai Brostrøm as co-authors) with the crime series Unit One (2000-04 - 32 episodes), The Eagle (2004-05 - 24 episodes) and The Protectors (2009-10 - 20 episodes); TV2 followed up with Eddie Thomas Petersen's Island Cop (1997-98 - 12 episodes). Most successful was Stig Thorsboe's Better Times (2004-07 - 22 episodes), which cleverly combined TV's media history in Denmark with a family drama based on Danish society in the period 1949-72.
Also popular were author Søren Sveistrup's couple relationship series Nikolaj & Julie (2002 - 22 episodes) and the crime series The Killing (2007 - 20 segments) and The Killing (2009 - 6 segments). More artistically ambitious was instructor-led mini-series such as Ole Christian Madsen's post-occupation drama Edderkoppen (2000 - 6 parts) and Per Fly's Forestillinger (2007 - 6 parts).
These series, which have also had international success (among other things, garnering three Emmy's), have supported the general trend of American influenced genre orientation and has also given the Danish production environment an important opportunity for fulfilment and professional learning, especially for many of the period's key filmmakers - including Niels Arden Oplev, Per Fly, Lone Scherfig, Henrik Ruben Genz, Ole Christian Madsen and Rumle Hammerich.
The personal and the universal: Documentaries since the millennium
Documentaries continued with mature works such as Jørgen Leth's New Scenes from America (2003), Anne Wivel's The Land of Human Beings - My Film about Greenland (2006), Morten Henriksen's With a Right to Kill (2003), about the executions of informers during the occupation, and Ole Roos' portrait films Ib Schønberg (2000) and At skrive eller dø (2006) about Henrik Stangerup.
Most notable is the new documentarism, which fruitfully breaks through in the new millennium. Sami Saif and Phie Ambo's Family (2001) makes the private public in the story about Saif's attempt to find his Arabic father. Also in Max Kestner's stroke of genius, the short Max by Chance (2004), the autobiographical is crossed with the universal. With a similar optic Niels Frandsen's Epidemien (2001) looks at the big polio epidemic of 1952.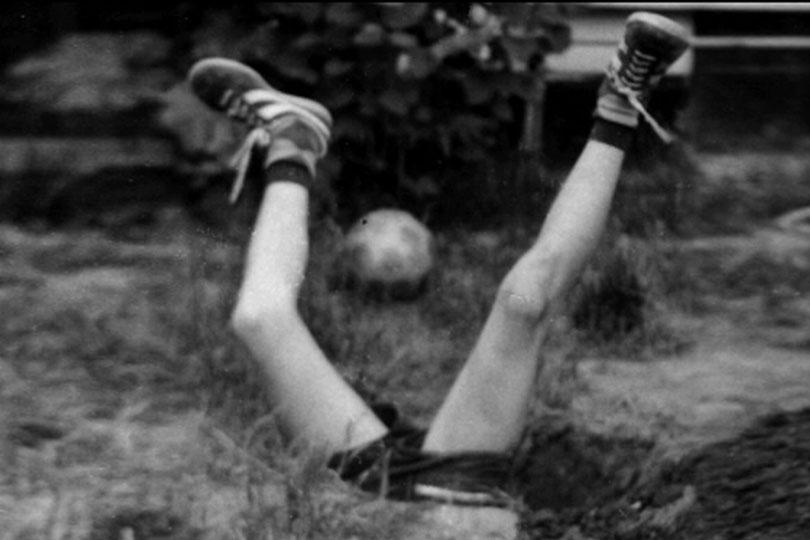 Pernille Rose Grønkjær's The Monastery (2006) portraits two eccentric personalities, Asger Leth's Ghosts of Cité Soleil (2006) portrays gang life in Haiti from the inside, and Anders Østergaard gives us the imaginative artist portraits Tintin and I (2003), about the cartoonist Hergé, and Gasolin' (2006), about the Danish rock group, which also sold the most tickets of any Danish documentary.
The political documentary is represented with Tómas Gislason's visually innovative Maximum Penalty (2000), about the tragic destinies of two Danes in Stalin's Soviet Union. Eva Mulvad's Enemies of Happiness (2006), about a female Afghan politician, Christoffer Guldbrandsen's controversial TV-documentary The Secret War (2006), about Danish special force's delivering of Afghani prisoners to the American forces in direct violation of the Geneva convention, Dagbog fra midten (2009), a kind of political comedy about the political party Ny Alliance's short trip from success to failure, as well as Anders Østergaard's Oscar nominated Burma VJ - Reporting from a Closed Country (2008), shot illegally by video reporters in Burma. Important are also Max Kestner's Denmark film The World in Denmark (2006) as well as 'Pictures of Power' (2004), a series of 12 documentaries, where changing directors undertake to critically impact social debate.
In the intersection between documentary and fiction lies Morten Hartz Kapler's mockumentary AFR (2007) about the assassination of a Danish premier minister.
Film posters from the 00s